Why Join Funeral Prints Partner Program?
At Funeral Prints, we understand the importance of providing our customers with a wide range of options. That's why we offer a diverse selection of designs and themes and customizable features to ensure that each memorial product is unique and personalized.
Additionally, our skilled design team is available to work closely with funeral homes and their clients to achieve the perfect look and feel for their commemorative items. We take pride in providing high-quality, customized products that honor the memory of loved ones in a thoughtful and meaningful way.
Benefits of Funeral Prints Partner Program
We Create – Our Customer Support team is here to help. We work with your team or directly with your families in their time of need.
We Print – Partner discount pricing available. As a Funeral Prints Partner, you can be assured the printing will be fast and accurate.
We Deliver – Partners receive free overnight UPS/FedEx Shipping. All orders received by 3 pm EST are printed and shipped on the same day.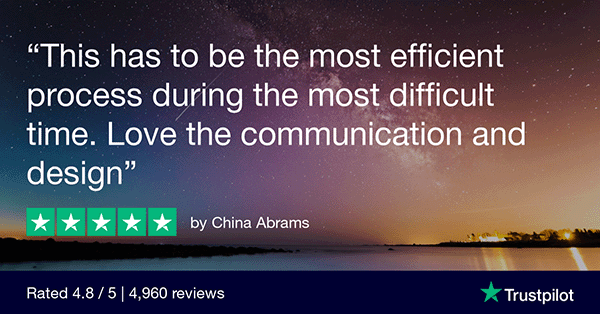 As a valued partner, you will receive complimentary overnight delivery to ensure that your orders arrive on time and in perfect condition. In addition, we are pleased to offer a significant discount based on monthly order volume for our Funeral Home partners. This discount is our way of showing our appreciation for your continued business and loyalty.
We also take pride in our streamlined design process, engineered to make the ordering process as easy and efficient as possible. Our professional staff is always available to assist you with every step, from selecting the perfect design to finalizing the order.
At Funeral Prints, we believe in providing exceptional quality and value to our partners, and we are committed to ensuring your complete satisfaction with every order. Thank you for choosing Funeral Prints as your trusted partner for all your memorial printing needs.
Affiliate Opportunities
To ensure our partners benefit financially from this relationship, we also offer a commission-based structure for all orders placed on our website that originate from your website. We will provide you with instructions on where to link to our site from your site, or how to provide this link to your families so they can build their own products at cost savings to them and time savings for you.
To leverage our current relationships and grow this offering, we plan to work closely with funeral homes to promote our services and showcase our products. This could include featuring Funeral Prints on their websites, recommending our services during client consultations, and showcasing our products at memorial events and other industry gatherings.
This would allow our partners to earn a percentage of the total sale for each order they place on behalf of their clients. We are excited about the potential of this new offering and look forward to working with our partners to create a truly exceptional experience for their clients. Thank you for your continued support and partnership with Funeral Prints.